It's taken 30+ years but The Diodes, one of Canada's first punk bands and true innovators, are finally getting some respect – and recognition.
Recent performances in Italy and Southwestern Ontario this past May-June were both enthusiastically received and complemented by media coverage and video interviews by music journalists.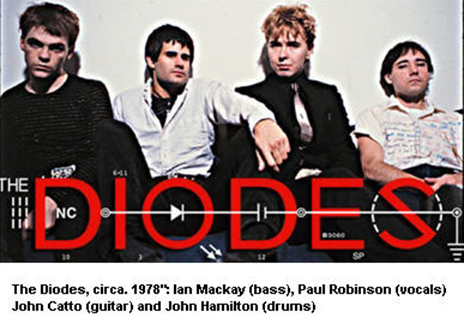 What made these shows especially memorable was that the original 1977 line-up of Paul Robinson (vocals), John Catto (guitar), Ian Mackay (bass) and John Hamilton (drums) was intact. Each song, therefore, was played true to its original form and delivery.
For those unfamiliar with punk, the Diodes' brand of it was described by MacKay in Aldo Erdic's "circa 1977: The Diodes" documentary, as PowerPop: "Songs having pop sensibilities but with big amps."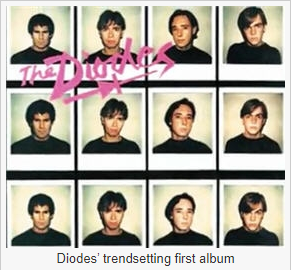 Diodes' manager Ralph Alfonso is more precise: "High decibel, high energy with aggressive guitars and swirling melodic vocals." Lyrics: "Social comment tinged with satire, personal experiences, disenfranchised youth stuff," said vocalist Paul Robinson. "We were 19-20 years old; we wrote about what we'd seen, what we thought."
Home Sweet Home
The highlight of the band's month long re-introduction was a joyous, sold out homecoming show at Toronto's Horseshoe Tavern. Their performance was no mere catapult into the past but rather, a succession of well-played, intense, raw, and articulate songs.
"They put a lot of pressure on themselves beforehand, said Alfonso."They wanted it (their performance) to be their best."
The band led off with a quintet of songs from their iconic self-titled first album: Shapes of Things, Time Damage, Tennis Again, Child Star, and Behind Those Eyes which caused the crowd to surge forward, drawn into the vortex of their power, precision, and performance art.
As they progressed into 2nd and 3rd album cuts, their versatility and evolution was revealed by such songs as 'Photographs from Mars, Everything I Am, and Catwalker.' Another notable was their first single 'Red Rubber Ball' that went to #5 on the U.S. college radio chart.
It also became noticeable that guitarist Catto and bassist MacKay were operating in quite an unconventional manner. Whereas, most bands employ the bass as a foundation, MacKay fused his playing with Catto's focused, heavy guitar to form a 'wall of sound,' within which it was possible to discern their individual hooks, chords and riffs.
"It's a point-counterpoint kind of thing we've been doing since we started, said MacKay. Sometimes, John will start a chord arrangement and I'll finish it, or he'll end one of mine, or we'll play the exact same chords at the same time."
It created a full-on effect that riveted attention and meshed well with Robinson's vocals and penetrating gaze through darkened sunglasses. Back on the drums, John Hamilton demonstrated a variety of styles and a lot of cymbal combinations, reflecting the broad range of his band's material.
Near the end, Robinson summed up his band's exaltation by bellowing, "Welcome to my party!" amidst a deafening roar. He then leapt down into the audience where he shared his microphone with fans during a dancing rendition of "Tired of Waking Up Tired."
Destiny or…..
And yet, up to early this year, The Diodes seemed destined to become just another footnote in this country's undervalued and under-celebrated rock n'roll lore.
What happened to change their destiny?
Two things: one unexpected, the other, known, but with surprising results. First, an Italian record company decided to release a vinyl-only edition of 'Time/Damage: Live 1978′ which was a recording of the Diodes' historic 1978 El Mocambo show. Good sales and positive publicity led to an invitation to play two 'Road to Ruins' Festival dates in Venice and Rome this past May.
A Gift for the Ages
The other game-changer was Liz Worth's book, "Treat Me Like Dirt: An Oral History of Punk in Toronto 1977-1981" published this past January. Written over 2 years and now in its third printing, the book is a detailed series of chronological 1st person interviews of a 100+ movers, shakers, and witnesses of the scene. They include members of the The Diodes, Viletones, the Ugly, The Curse as well as Hamilton's Forgotten Rebels and Teenage Head, to name a few.
And of her book's influence on The Diodes? Ian Mackey solely attributes their getting back together to Liz Worth, "She stirred up a lot of interest in punk and especially in us."
Boredom sparks Originality
By far, the most common trait Worth uncovered amongst those interviewed was culture boredom. That isn't surprising. By the mid-70′s, rock had grown bloated, stale, and divorced from its street roots. The public's role
was to be faithful consumers of repetitive AM radio play, big rock shows, technically refined studio bands or as dolled up Disco dancers.
"Unlike now, the only way that bands could play in bars or clubs was to play covers of other band's music (Beatles, Stones, etc.): that's 3 sets of covers," said Robinson. And of hard rock? "Max Webster's (Toronto hard rock band) lighting gear would fill a tractor trailer. One time I saw Kim Mitchell (vocalist) rehearse what he was going to say on stage, word-for-word. Then repeat it in the middle of their show. It was all so contrived."
Music combined with Art
The Diodes approached the idea of music from a very different angle than was customary; for one thing, 3 out of 4 of them were art students.

"We were really influenced by what Andy Warhol was doing with 'Interview Magazine' in New York City." Begun in 1969, the magazine featured interviews of the who's who in art, culture, fashion and music and was usually unedited or edited in the eccentric fashion of Warhol's books. "We wanted to be part of that, to hang out with those beautiful, cool people."
Their musical influences were pretty much shared by anyone who later formed a punk band in Toronto. "We listened to glam bands like Mott the Hoople, T Rex, Bowie – the Stooges, the New York Dolls, and garage rock from the 60s; everyone had a Seeds album, said Catto. "And, of course, the Ramones influenced everyone," Robinson chimed in. "When I saw them in Boston in summer of '76, I not only wanted to be in a band; I knew I could do it."
After they all met and discovered their similar tastes, experiences and desired outcomes (a record deal being one of them), they went to work. "We started out thinking we'd do some covers," said Catto "but we found it easier to write our own stuff."
By January of '77, they had enough to play a set. Upon hearing of the Talking Heads Toronto-bound intentions, Catto contacted their manager Ralph Alfonso and suggested using their school, the Ontario College of Art, as the venue. "That's so we'd have a place to play." And it happened. "We were the first Canadian punk band to perform live; in doing so, we became ground zero for all people in the audience who would later form bands. If we hadn't played that gig, some of those bands would never have played."
A Year of Firsts
Over the following year, the band recorded a succession of firsts. They:
 Composed and arranged the music for each of their songs
 Practiced every day: they were serious about their goals
 Debuted in the first Toronto punk show in January '77, opening for the Talking Heads
 Organized and ran the first punk night club in Toronto, called the 'Crash 'n' Burn' which gave other local punk outfits like the ones Liz Worth interviewed, plus several American bands like the Nerves and the Dead Boys, an opportunity to play in Toronto
 Became the first punk band in Canada to sign a recording contract with a major label, namely CBS, with their first album being released 6 months before the Sex Pistols' effort
 First punk band to play at the El Mocambo Tavern which was recorded live by Toronto's CHUM FM radio station
It Ain't Easy Being First
Being a pioneer, however, meant enduring the rigors posed by the environment (culture) and navigating often hostile geography (business & the media). Canadian radio stations of the time were stuck on a top 40 format so they ignored the band; none of the clubs would book them because of their no-cover nature. Touring to support their album then became next to impossible. When they did venture outside Toronto, the province's small town populations and the distance factor exhausted them.
And of the U.S.? Their Canadian management company sent them on a poorly organized U.S. 'tour' in early '78, which coincided with the worst winter in 50 years.
During the recording of their 2nd album, 'Released,' their record producer pressured them to make it more commercial. Upon its completion, CBS shelved it then dropped them.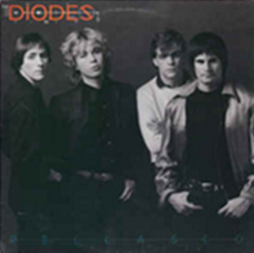 Months later, however, a CBS subsidiary released a 'new wave' compilation album (Permanent Wave) which included one of the band's few covers, Red Rubber Ball.
When it climbed to #5 on the U.S. College record chart in 1979, the band got a call-back. Initially, the Diodes helped CBS promote that album, which contained 'Red Rubber Ball" and "Tired of Waking Up Tired," then signed with RCA. Two albums followed, more touring, but the same problems dogged them so they split in September 1981.
In their 4 years of existence, the Diodes opened for the Ramones, Runaways, Dead Boys, Talking Heads, The Cramps, Ultravox, Split Enz, Gary Numan and U2.
Looking back….
"The (music) industry killed us, said Robinson, "They (CBS) wanted to sign us because they wanted to sign a punk band but then they didn't want us to be a punk band. It was a crime against culture. And now these record companies are getting their comeuppance. They're dinosaurs and all their people (from back then) are either retired or dead."
Fast forward to June 2010: Despite the positive press clippings and attention, the Diodes still suffer the slings and arrows of indifference and confused priorities in their home country.
"These elements still exist. We were invited (this past June) to be on CBC's (Radio) Jian Ghomeshi's show which is very influential. But they bumped us in favour of the Cowboy Junkies, then asked us to come back another time. Well, that's not possible. John (Catto) and I live in England. We're here (in Canada) now, we're available, we've reformed after 30 years and they bump us."
Futures….
"Meanwhile, our entire catalogue is on iTunes, their manager Ralph Alfonso of Bongo Beat Records has re-issued several of our albums on CD and we have a lot of other recorded material that still sound good." Does this mean they're going to put out more music? "Anything is possible."
As to The Diodes' contribution to modern music:
"When we started, there were maybe 50 bands across the world playing the kind of music we were playing. Now, there's 2 million. We're also the last remaining original punk band out there whose members are still alive and still good friends."
The Diodes are like a Red Rubber Ball with a lot of bounce; hopefully, there are more to come.