Looking up last week, above the streets, people and traffic, I saw something I've never seen before – and twice in 1 day: large groups of birds perched on telephone and hydro wires taking in the world below. Could it be they were exchanging ideas?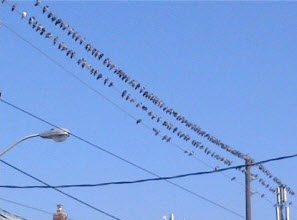 This 'beak meeting' was of pigeons, which I've never seen in groups of more than 20 or 30; even then, they've always been in dining mode. That day saw roughly 200 of them out of my hearing range, but likely chatting among themselves.
Had I not looked up, I wouldn't have seen them. Later, that reminded me of how limited perspectives can impede problem solving.
Continue reading "Thinking: What do Birds Have To With Ideas?"